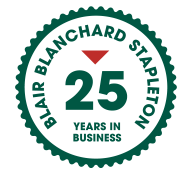 David Blanchard, Gary Stapleton and Drew Blair founded Blair Blanchard Stapleton Limited, Real Estate Brokerage in July 1995 with the idea to form an elite group of professional salespeople to lead the I.C. & I industry in the Greater Hamilton Bay area. Over 20 years later, their vision has flourished into an industry leading, multi-million dollar firm with a group of real estate professionals possessing more than 100 years of combined experience in all aspects of commercial and investment real estate.
The current sales team consists of 17 recognized sales representatives with expertise in industrial sales and leasing, land sales, office leasing, retail & investment real estate and appraisals. All of these certified professionals have industry knowledge covering urban planning, financing, appraisal, design-build, construction and property management. Many of our team members have contributed significantly to the real estate industry through service on committees with the Realtors Association of Hamilton-Burlington (RAHB) and the Real Estate Council of Ontario (RECO) and have also given back to the community through participation with various volunteer organizations in the Hamilton area.
Our client base ranges from the small, single property user to medium size industries and Fortune 500 firms, along with extensive dealings in the financial community. All of the attributes of our sales force help us to provide our clients with the most informed, timely, professional real estate advice and service. It is essential in today's market to be able to offer a complete package when dealing with non-residential properties. Brokerage firms and sales representatives must have the ability to coordinate all aspects of a potential sale/lease transaction in order to facilitate deal completion. At Blair Blanchard Stapleton, we continually update our knowledge regarding construction methods, costs, zoning bi-laws, building codes and the local political environment. All of these factors can be critical to the timing required to take a project from the initial stages to the finished facility.
In July 2012, we expanded and opened a second brokerage office in Burlington, Blair Blanchard Stapleton Halton Ltd., Brokerage. This office is a full service business handling all areas of commercial sales and leasing to meet the needs of clients in the Burlington area. The Broker of Record at our Burlington office is Kevin McAleese. Rod Wright is a Sales Representative and Vice President at this office.
In 2020 Blair Blanchard Stapleton celebrated its 25th year in business.